10 Tips for Mobile App Design for Ecommerce Stores
Dec 8, 2022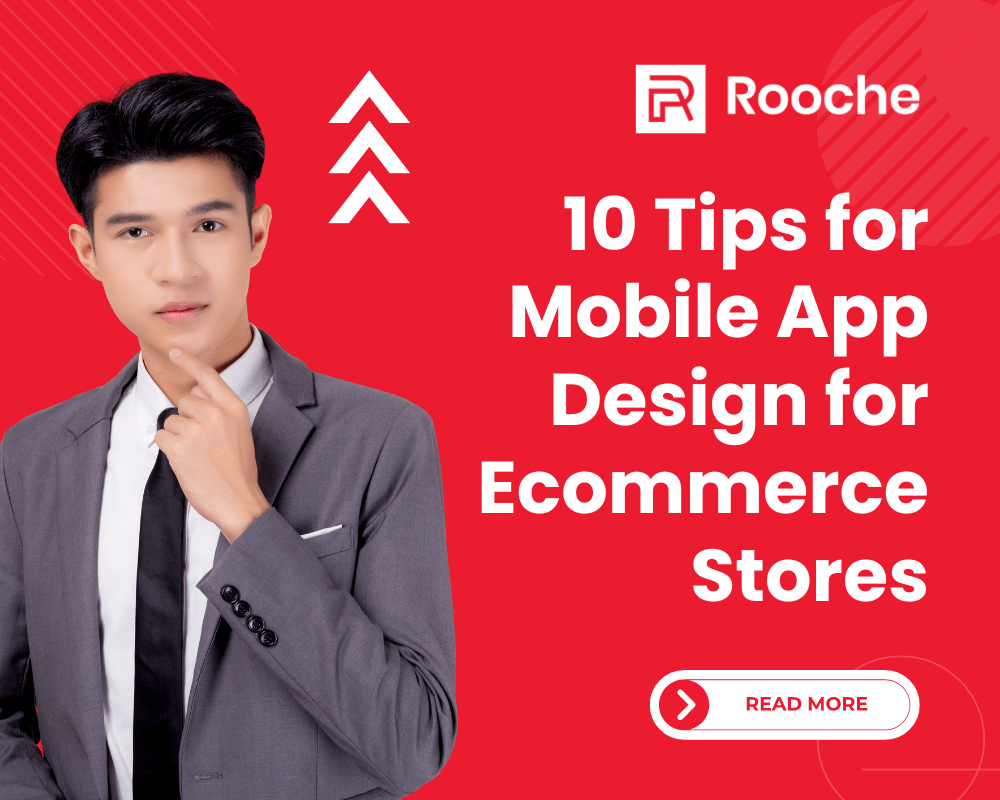 Mobile users spend more time on apps than ever before. Also, the market for mobile e-commerce apps is growing at an incredible rate. With so many people using mobile devices to shop, businesses need to make sure their design matches those needs.
The market has changed a lot since people started shopping on their phones. Today, millennials make up a huge part of the population. They love cool apps and they don't want to be forced into buying something they don't want or need. They demand convenience and simplicity when it comes to their shopping experience. We all know that mobile apps are always changing. Why would you want to lock yourself into an outdated design?
If you want to stay ahead of the curve and grow your business, then you need to invest in a mobile app that will meet the current and future needs of your customers.
Here are 10 tips for making sure your e-commerce mobile app is up-to-date and on point with current trends:
Keep the Interface Clean and Uncluttered
The interface of an e-commerce app is one of the most important elements. It is the first thing that new users will see, and they will make decisions based on how they perceive it. If you have a cluttered interface, then new users will be turned off by your app and never return to check out. This can lead to lost business opportunities and lost revenue in your business.
It is important to keep your interface clean and uncluttered so that it does not overwhelm users with too many options or features that they do not need to know. Users should be able to navigate through the interface easily without having to look at too much information at once. This helps them make quick decisions about what products or services they want to buy from you.
Make the Interface Intuitive, User-Friendly and Coherent
If you want your customers to be able to find what they need quickly and easily, make sure that everything about your app is easy for them to use. Your interface should be intuitive and easy to understand, so that there are no barriers between the consumer and the products or services you offer. A great interface means that consumers don't have to spend time learning how to use your app.
With a good interface, you can provide your customers with a consistent experience across all touchpoints—whether that's on their phones or on desktop computers. Make sure that every experience feels like it belongs in the same world as everything else—and that includes both physical locations and online experiences.
Make it easy for users to send feedback about your app
Invite users to send you feedback about your app by making it easy for them to do so. Keep the feedback process simple, and you'll get more positive user reviews.
Feedback is important for any business, but it's especially critical for an e-commerce store. You can't get the feedback you need without honest, open communication with your customers.
If you aren't asking your customers for feedback, then you're missing out on one of the most important parts of running a successful e-commerce store. You can't improve your store unless you know what people think and how they feel about it.
Don't go overboard with animations.
In designing your e-commerce store, don't go overboard with animations. While animations are fun and can help to increase a sense of urgency in your customers and make them more likely to purchase, too much animation can be overwhelming.
Instead, try to keep your site simple and easy to use. You want your site to be something that users will want to come back to, not something they'll have trouble navigating because it's too busy or confusing.
Keep the mobile app design simple and smart
In designing your e-commerce store, many things are at stake. Your business is depending on the quality of the user experience and how engaging that experience will be for potential customers. That's why it's important to keep the mobile app design simple and smart.
We all know how much we depend on our smartphones, and what a pain it can be when we can't use them because they're running low on battery or we dropped them in the tub. For businesses like yours, having an app that works well across multiple devices is essential because it allows you to reach more customers—and it also helps keep you from being late on orders or losing money due to poor technology.
Provide a Search Button on Every Page of Your App
If a user can't find what they're looking for, there's a good chance that they'll abandon your site and never return.
By adding search functionality to every page in your app, you make sure that users will be able to find exactly what they're looking for when they visit your store.
Avoid vertical scrolling
Vertical scrolling is a common problem for e-commerce stores. It happens when you scroll down on your website and the content gets cut off. This can happen because of the way your website was designed. The only way around this problem is to redesign your e-commerce site so it does not have vertical scrolling problems during the design and development stages of building an e-commerce store.
Make the app accessible on any screen size or device.
It's easy to get caught up in the excitement of creating your website design and forget that your potential customers will be using their mobile devices to access it. Make sure your store is compatible with any device, so you can reach as many people as possible.
Make sure that the app is designed with mobile in mind, so that users can navigate it easily and quickly.
Keep the shopping cart in view throughout checkout process
One of the most important things you can do to make sure that your site is a success is to keep the shopping cart in view at all times.
Although you may not realize it, this little widget can be incredibly influential in determining whether or not someone will buy from your store.
The best way to make sure that your customer keeps their cart open throughout checkout is by making sure that they can easily see it on their screen. If they're unable to see it, then they'll just assume that their order has been canceled and won't complete the transaction.
This is why it's so crucial for businesses to have a clear understanding of what their customers are looking for when it comes to their websites—and how they can meet those goals in order to increase sales and conversions.
When designing your e-commerce store, keep the shopping cart in view throughout the checkout process.
Don't try too hard to be unique
It's better to just go with what you know and what works for you. The more unique elements in your design, the more difficult it will be for people to find the products they want and make a purchase. Make sure your store has an easily navigable layout and easy-to-find features like dropdown menus, search boxes, and other tools that can help customers find what they're looking for.
Remember these tips for a great mobile app design for an e-commerce store!
We hope you've enjoyed the tips and tricks we've shared with you today. We know it can be a challenge to build a mobile app that is both functional and beautiful, so these are some of our favorite ways to make your app stand out.
If you have any questions or want to learn more about designing apps for e-commerce stores, feel free to reach out!
Always be updated
Join our newsletter and be the first to receive future promo and sale updates from Rooche!