What Are The New Web Design Tools To Use 2023
Apr 24, 2023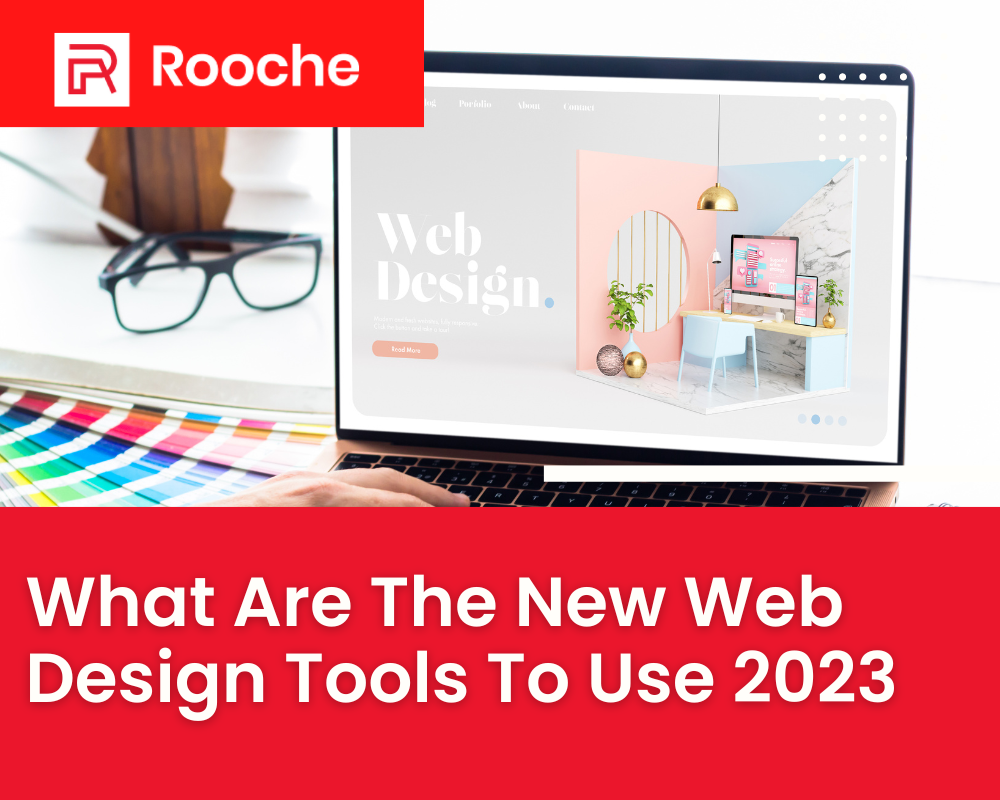 The world of web design is constantly evolving, and staying ahead of the curve can be challenging. With new tools and technologies being developed all the time, it takes time to keep up with the latest trends in web design. But what are the new web design tools that we should be using in 2023?
In this article, we'll explore some of the newest and most innovative web design tools available for designers in 2023. We'll also discuss choosing the right tool for your project so that you can stay ahead of the competition.
What Are Web Design Tools?
Web design tools are software applications and technologies used to create and manage websites. They help web designers build and maintain visually appealing, user-friendly, and functional websites. Some of the most popular web design tools include HTML, CSS, JavaScript, WordPress, Adobe Photoshop, Dreamweaver, and Bootstrap. However, we will not be discussing the above mentioned tools, instead we will tackling some of the new and on-trend web design tools year!
These tools enable designers to create dynamic webpages quickly by providing them with pre-built templates and elements that can be easily edited. Additionally, many web design tools offer features like drag-and-drop functionality for easier page creation.
Benefits Of Using Timely Web Design Tools
With the ever-evolving web design industry, it is important to stay on top of the latest tools and technologies. Tools that are up-to-date and efficient can help your business stay competitive in an increasingly digital market. There are many benefits of using timely web design tools, which include increased productivity, improved user experience, and enhanced site security.
Increase Productivity
The first benefit of using timely web design tools is increased productivity. By having access to the most current features and functions, you can create websites faster than ever before. Additionally, you can use these tools to automate certain tasks such as updating content or tracking user interactions. This will save you time and allow you to focus on other aspects of your business.
Improved User Experience
Another benefit of using timely web design tools is improved user experience. With modern features and functions, users will be able to easily explore your website without experiencing any issues or bugs. Additionally, with improved site performance comes an overall better user experience as pages load quickly and navigation is intuitively designed for a smooth browsing session.
Enhance Website Security
Finally, one of the biggest advantages of utilizing the latest web design tools is enhanced site security. With more recent versions of software come added layers of encryption and protection from malicious attacks or data breaches. This ensures that your customers' information stays secure when visiting your website.
These are just some of the many benefits associated with staying on top of the latest technologies in web design tools. As we move into 2023, new trends and innovations will emerge in this field that can further improve a website's performance and usability for its end users.
3 New Web Design Tools To Use
In 2023, web designers have a variety of new tools and technologies to choose from. AI-powered tools are helping to create more personalized user experiences, while visual editing tools are introducing improved drag-and-drop design capabilities. Additionally, cloud-based services are becoming increasingly popular as they offer reliable hosting and scalability options.
#1. Coolors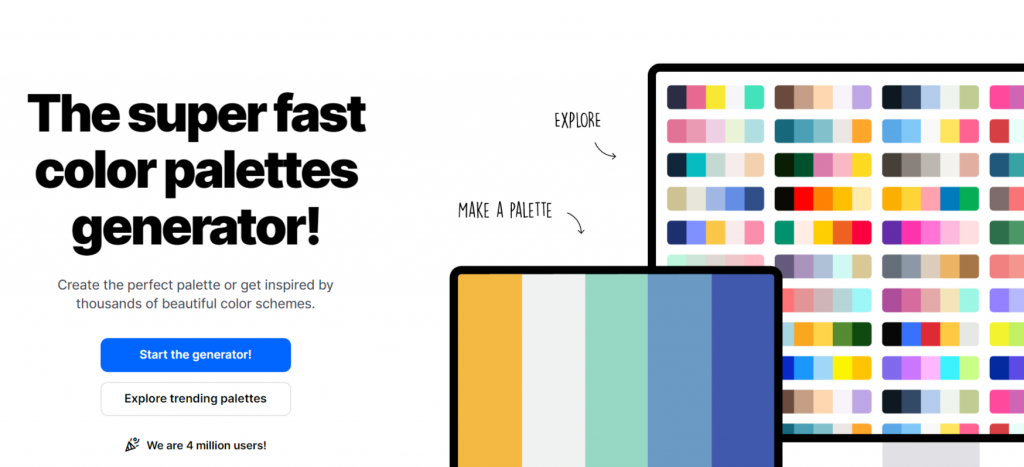 This web design tool allows users to create color palettes for their design projects. It provides a simple and intuitive interface where users can generate a color scheme by either selecting colors manually or by using the website's automated color generator.
Coolors also lets users save their color palettes and export them in various formats, such as PNG, SVG, or Adobe Swatch Exchange. Additionally, the website features a community section where users can share their color palettes and browse other users' creations.
#2. Canva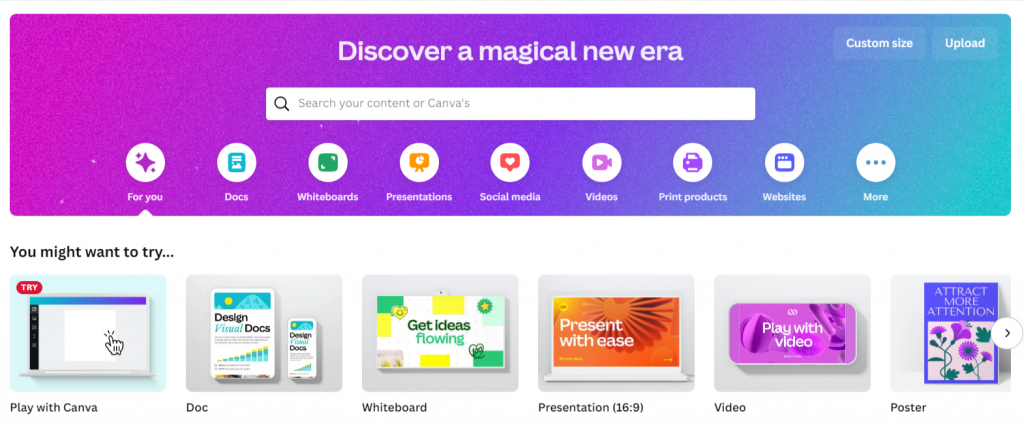 Canva is a web-based design tool that allows users to create graphics, documents, and other visual content. It offers a wide variety of design templates and tools, making it easy for non-designers to create professional-looking designs quickly and easily.
With Canva, users can create designs for social media posts, presentations, posters, business cards, resumes, and much more. The tool comes with a library of pre-designed templates, graphics, and fonts, and users can also upload their own images and fonts to use in their designs.
One of the standout features of Canva is its drag-and-drop interface, which makes it simple for users to add and edit elements in their designs. The tool also offers a range of customization options, allowing users to change colors, fonts, and other design elements to suit their needs.
#3. Sketch

Sketch is a popular vector-based design tool that is primarily used by web designers to create user interfaces (UIs) and web designs. It is a Mac-only application that is known for its intuitive interface and powerful features, and it has become a favorite among many designers for its ability to streamline the design process.
With Sketch, designers can create wireframes, prototypes, and high-fidelity designs for websites and mobile apps. The tool comes with a variety of templates, symbols, and libraries that can be customized to suit the needs of the designer. It also offers a range of advanced features, such as artboards, vector editing tools, and a pixel-preview mode that allows designers to see their designs at different sizes.
One of the standout features of Sketch is its ability to integrate with other design tools and workflows. It can be used in conjunction with tools like InVision, Zeplin, and Figma to streamline the design-to-development process. Additionally, Sketch has a large and active community of users, which means that there are plenty of resources and tutorials available to help designers learn and improve their skills.
Choosing the right web design tool can be a daunting task, as there are so many options available on the market. Here are some tips to help you choose the right web design tool for your needs:
Consider your design goals: Before choosing a web design tool, it's important to consider your design goals. Do you need to create wireframes or prototypes? Are you designing a website or a mobile app? Knowing what you want to achieve with your designs can help you narrow down your options.
Look for ease of use: While some web design tools are packed with features, they can be complex and difficult to use. Look for a tool that has an intuitive interface and is easy to learn, so you can spend more time designing and less time figuring out how to use the tool.
Check for compatibility: If you're working with a development team, make sure the web design tool you choose is compatible with the tools and workflows they use. This can help streamline the design-to-development process and ensure that your designs can be translated into code easily.
Consider your budget: Web design tools range in price from free to several hundred dollars. Consider your budget when choosing a tool, but keep in mind that the most expensive tool may not always be the best fit for your needs.
Read reviews and try demos: Before making a final decision, read reviews of the web design tools you're considering and try out demos if they're available. This can give you a better sense of how the tool works and whether it will be a good fit for your design needs.
Conclusion
In conclusion, web design tools are important to help create visually appealing and highly functional websites. With the right tools, you can make sure that your website looks great, functions properly, and is easy to use. It's essential to stay up-to-date with the latest web design tools in order to keep your website looking good and functioning efficiently. All of these tools have their own unique features and capabilities that can help you create a successful website in no time.
Always be updated
Join our newsletter and be the first to receive future promo and sale updates from Rooche!