How a Website Can Grow or Break Your Start-up Business
Jan 13, 2023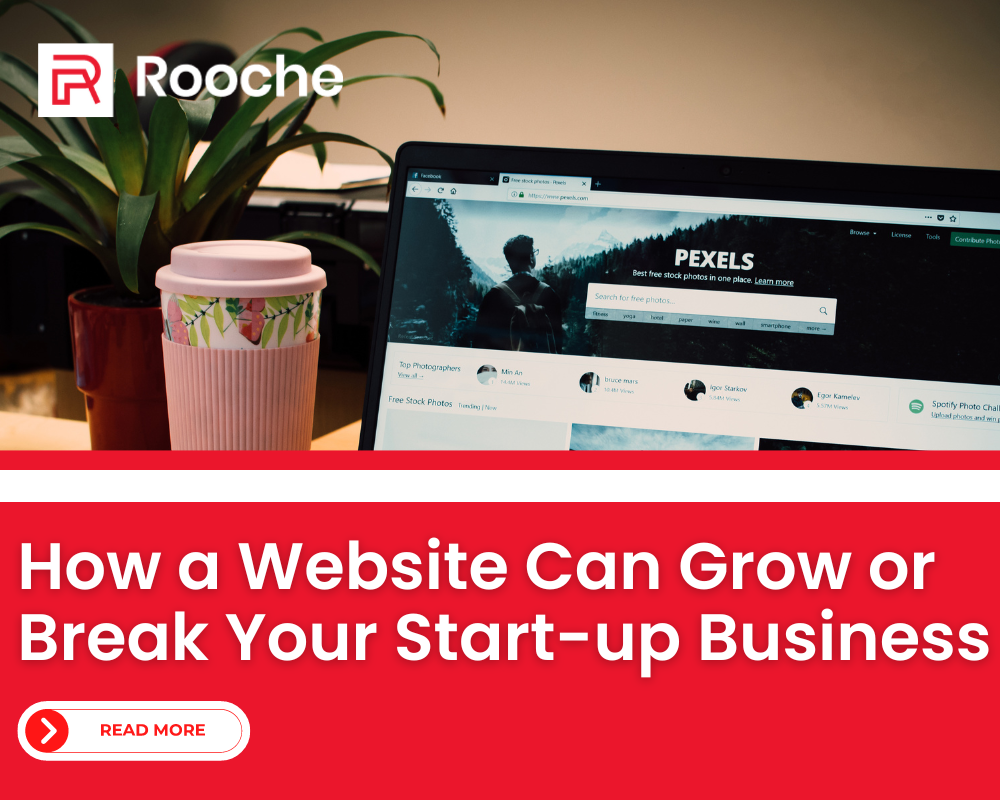 Starting a business is no easy feat. There are countless decisions to make, from finding the right location to choosing the best marketing channels. One of the most important decisions you need to make is whether or not to create a website for your start-up business.
A website can be an invaluable asset, but it can also quickly become a liability if not handled correctly. Let's take a look at how having a website can impact your start-up business, and what you need to do in order for it to be successful.
The Benefits of Having a Website

One of the biggest benefits of having a website is that it establishes credibility for your business. When potential customers search for businesses like yours on Google, they will likely come across your website first. This means you have an opportunity to communicate why they should choose your business over all others in your industry. Further, by creating content such as blog posts or videos, you can establish yourself as an authority in the space and build trust with potential customers before they even reach out to you directly.
Having a website also makes it easier for customers to find information about your products and services without having to call or email customer service representatives. This increases efficiency and allows customers to get answers quickly without taking up too much of their time which is always appreciated!
Many businesses also use their websites as digital storefronts where customers can purchase goods and services directly from the site itself. This is an excellent way for start-ups who are just getting started with eCommerce operations as it eliminates many of the costs associated with setting up physical stores or shipping goods directly from warehouses.
Finally, having an online presence allows you to reach more people than ever before especially those who may not be familiar with your physical store's location or operating hours. With social media integration and SEO optimization techniques, you can increase your visibility online and attract new customers who wouldn't have found out about your business otherwise.
What You Need To Do For A Successful Website

Creating a successful website takes time and effort. You will need to create high quality content that speaks directly to your target audience while still maintaining SEO best practices so that search engines can easily find your content when someone searches for terms related to your industry.
You will also need to optimize images and other visual elements on the site so that pages load quickly—no one wants a slow loading page! Finally, pay attention to design. Make sure everything looks professional and aesthetically pleasing so that visitors feel comfortable browsing through different pages on the site without becoming overwhelmed by visual clutter or confusing navigation menus.
Hiring Web Design Agency to Boost Your Business Website Conversion Rate
When deciding whether you should hire a web agency professional for your business website, there are some important points to consider. In today's digital age, having an effective and well-designed website is essential for any business.
It provides customers with the information they need about your products or services and can be used as an effective marketing tool. This means it is important to get it right from the beginning in order to achieve the best possible outcome.
Hiring a web agency professional means that you can have access to experienced professionals who have expertise in multiple areas of design and development such as coding, creating visuals, SEO optimization and content writing.
This type of agency also understands the importance of designing a website that has a strong user experience as well as being visually appealing and optimized for search engine rankings. They can provide advice on the best approach for your specific website goals and ensure that your site meets all current industry standards. Having access to this kind of expertise ensures that you can create a website that stands out from the competition and drives conversions.
Advantages of hiring a professional web design agency
The benefits of hiring a web agency professional don't stop at just having an amazing looking website though. Many agencies offer additional services such as analytics tracking and performance optimization which allow you to monitor how successful your website is and make changes if necessary in order to improve its effectiveness.
Additionally, these professionals often have extensive knowledge in other areas related to digital marketing, including social media management, email campaigns, PPC (pay-per-click) advertising, content marketing strategies and more. This means that hiring a web agency professional gives you access not only to amazing talent when it comes to developing your site but also invaluable insight into all facets of digital marketing that will help you reach your goals faster than ever before.
Conclusion
Ultimately, having a website can be incredibly beneficial for start-up businesses if done correctly. However, there are many challenges involved when building one from scratch. It requires significant research into SEO best practices. It involves knowledge about web design principles in order for it be successful long term but don't let this discourage you! With enough planning and dedication, you can create an effective website that helps drive sales and increase brand recognition among potential customers!
Always be updated
Join our newsletter and be the first to receive future promo and sale updates from Rooche!