5 Reasons Why Your Outdated Website Is Losing Customers
Dec 8, 2022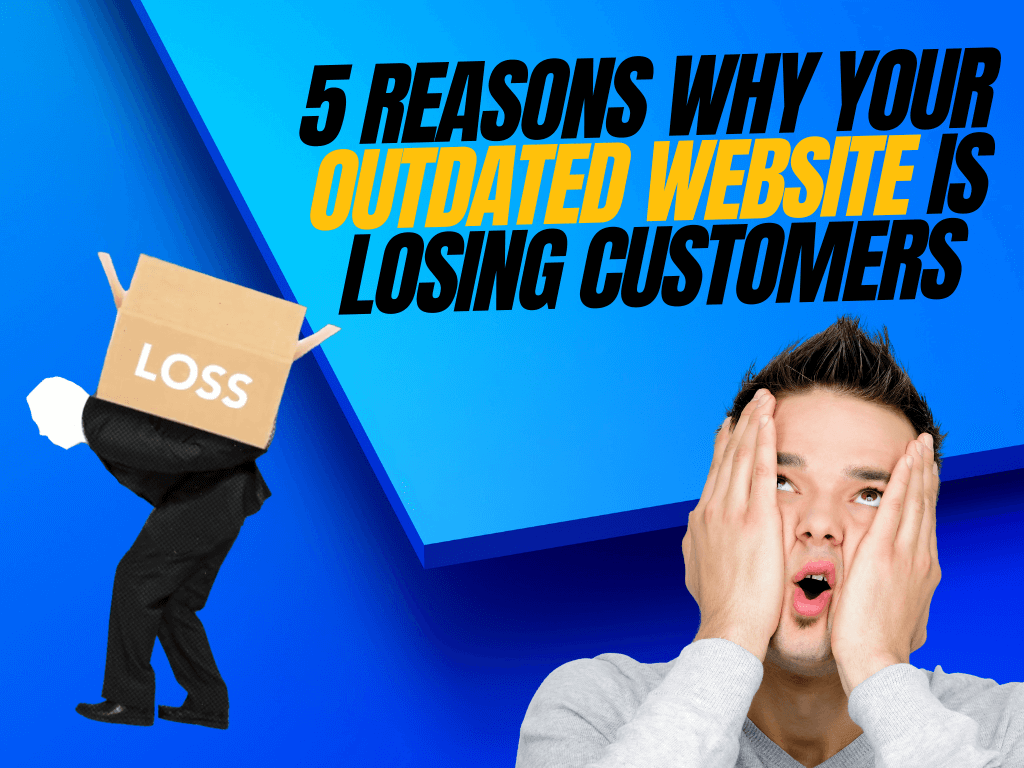 One of the most important things your website can make visitors feel comfortable and confident in hiring your company. Without a well-maintained website that's been designed with the user in mind, you're missing low-hanging fruit when it comes to getting new customers. The first step in creating a website that will convince new customers is having one that feels modern and fresh.
Let's start with having an old site look like your company doesn't care about its business or customers. This can be a bad thing for any company. Now let's take a look at the real reason why your website is so essential for your business and how to fix this problem.
The modern world is all about technology, so why would you want to stick with something that isn't even up to date. Nothing can be more important than keeping up with the changing times and technology, so it's best that if your site has become outdated over time, then it's time to bring it back up to speed.
The longer you wait to update it, the more behind your competitors you'll get.
If you're running an online business, your website is one of your most valuable tools. It's the way you interact with potential and existing customers, the way you set yourself apart from the competition and create brand awareness. However, if your website is outdated, it could be costing you valuable sales. You'll want to take note of these reasons why obsolete websites can keep you from losing customers.
We know how important online image is for a company. A sleek, clean-looking website that communicates your message and gives customers the information they want can be a big draw for customers. But even more important than looking good is providing your customers with what they need. It includes having up-to-date information on products, services, policies, and frequently asked questions (FAQ). This is especially crucial if you run an e-commerce site because it's about web design and customer service.
For example, suppose there's an error in pricing on your site that suddenly shows up instead of the price listed yesterday. In that case, a customer could quickly become discouraged with their experience when they try to place an order and are met with this problem. They might go to your competition instead or decide to shop elsewhere later.
Here are the top 5 reasons why your outdated website is losing customers!
1. If your website isn't mobile-friendly, you could miss out on a big chunk of customer traffic.
If your website isn't mobile-friendly, you could miss out on a big chunk of customer traffic.
According to Statista, in the fourth quarter of 2021, mobile devices (excluding tablets) generated 54.4 percent of global website traffic, consistently hovering around the 50 percent mark since the beginning of 2017 before consistently surpassing it in 2020. Just imagine if you have a website that does not correctly load on mobile phones, you could be losing many customers from mobile users.
If your website doesn't load quickly and easily on smartphone screens, you're probably losing business. And suppose you aren't getting enough customers visiting your site from mobile devices. In that case, you could be missing out on a significant opportunity to convert those potential customers into actual paying customers.
So how do you ensure your site is ready to meet the needs of this growing audience? You need to do two basic things: ensure your site is coded appropriately for mobile users and then make sure it has been set up to be responsive so that it will properly fit on any screen size.
2. Customers are more likely to buy from sites that are easy to navigate and load quickly.
We do some pretty extensive research ourselves, and what we've learned is that it's often the little things that make a big difference. Sites that are easy to navigate and load quickly are likely to have visitors who are more likely to buy. Now, we're not saying you have to have a site that looks like it was designed by NASA engineers and takes three years to load. That's just silly.
What we DO know is that if you make your content easily digestible (whether in the form of a blog post or newsletter) and you make sure your site loads quickly, then you're setting yourself up for success!
3. Great content and design can keep visitors engaged for longer.
When people visit your website, you want them to spend as much time there as possible. When brainstorming how to keep visitors engaged, consider the design and content of your pages. Do they make it easy for visitors to find what they want? Are they engaging enough to hold their attention and encourage them to click around? This is true in blogging and news sites, but it's also true of e-commerce sites. Visitors want to review their options quickly, and they want to feel like they're getting the best deal possible on whatever they're buying. Keeping things simple with clear fonts and easy-to-read text increases readability. It smooths out the experience for the visitor, who can spend more time exploring the offerings on offer instead of struggling to work through a complex interface.
4. A blog can boost customer loyalty by providing fresh and relevant content.
There are many ways to cultivate customer loyalty, but one of the most effective is blogging. A blog can boost customer loyalty by providing fresh and relevant content. This helps to establish your brand as an authority on whatever your passion is, and it gives people more reasons to keep coming back to your site for new information.
Not only does this increase their investment in what you have to offer, but it also makes them feel like they're part of something bigger than just buying from another retailer. They start seeing themselves as active participants instead of passive consumers, fostering stronger relationships over time.
5. If you don't use social media, you're losing out on chances to reach customers outside your immediate area.
If you're not on social media, you're missing out on a huge opportunity to reach clients in other areas and expand your local business. You are probably aware that most of your clients likely come from the immediate area around your place of business.
If you want to take advantage of a wider audience, one easy way to do it is by using social media. Social media sites allow you to reach customers outside your immediate area, which gives you the chance to expand your customer base.
The number of people using social media is ever-growing. This means there's more potential for new customers than ever before if you are willing to put in the work.
Being late to the web development game can cost you money and clients, so update today!
Let us be frank: It's time to update.
You might think that having an updated website doesn't matter, but you couldn't be more wrong. Having an outdated website costs you clients and money—and you need to update now.
The first reason updating your website is important is because it will cost you clients and money if you don't. If someone visits your website and sees that it looks like the internet circa 1997, they will immediately leave the site. They will not trust your site or your business, which means you've lost a potential client and their money. If you have any questions about what it means to keep your website on-trend and updated or how to get started, we can help with that too. Just shoot us an email, and we will do our very best to give you the best offer and services.
Always be updated
Join our newsletter and be the first to receive future promo and sale updates from Rooche!