Indulge in Success with Rooche Digital: Build Your Website Today
We're moving into the digital age, and businesses that don't adapt to the new technological landscape are going to get left behind. Get ready to bring your culinary creations to life and captivate the taste buds of food lovers everywhere with a stunning and engaging website.
Why Do You Need A Website?
It is true that not all businesses need a website. However, if you are into the food business and want to sell your products online, then building a website is the best option. A website will help you attract more customers and increase your sales. Here are some reasons why building a website is important for food businesses:
1. You can easily promote your business on social media platforms like Facebook and Instagram. People will be able to see your advertisements more easily if they have an online presence. You can also use emails for marketing purposes if you have an email list with thousands of subscribers.
2. Building your own website will allow you to save money on marketing costs because you don't have to hire any agencies or freelancers anymore! You can do everything on your own by hiring web designers who will create everything from scratch for free (or paid) depending on what type of design process works best for you!
3. A website will help you build trust among potential customers who might be interested in buying from your business someday!
What Makes a Great Food Business Website?
Running an online food business is challenging. From managing quality control to developing marketing strategies, there's a lot that goes into running a successful restaurant. But one of the most important aspects of any food business website is the design. A well-designed website can go a long way in making your business stand out from the competition and attract more customers. Let's take a look at some of the key features of a great food business website.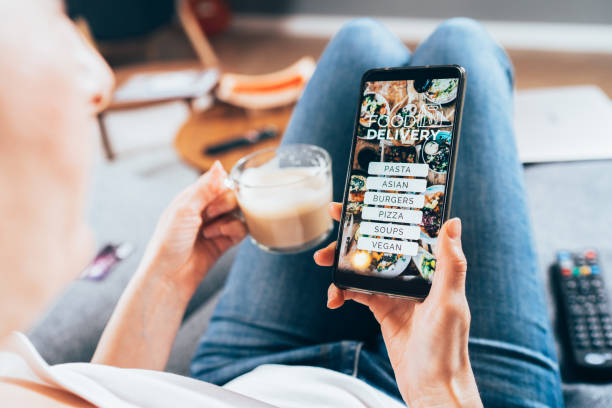 Responsive Design for Mobile Devices
This is an absolute must for any food business website. As more and more people are using their mobile devices to access websites, it has become essential that all websites be optimized for mobile use. This means that your website will automatically adjust itself to fit whatever device is being used to view it, whether it's a laptop, tablet, or smartphone. With responsive web design, users won't have to struggle with navigation or content display due to compatibility issues, resulting in a much better user experience overall.
Interactive Menu with Images and Descriptions
Having an interactive menu on your website can be incredibly helpful for customers as they search through your offerings and make decisions about what they want to order. An interactive menu should include images of each dish so customers can get an idea of what it looks like before placing their orders.
Additionally, descriptive information should be included so customers know exactly what ingredients are in each dish and how it tastes. This will help prevent any disappointment and ensure customers get exactly what they ordered.
Online Ordering and Delivery Integration
Having online ordering capabilities is essential for any food business looking to capitalize on the convenience factor that comes with offering delivery services to their customers. By integrating online ordering capabilities into your website, you'll make it easier for customers to place orders directly from your site without having to call or visit your physical location first.
Additionally, you can even integrate delivery services such as Uber Eats or DoorDash into your website so customers can have their orders delivered right away without having to wait in line at the restaurant or worry about calling in their order ahead of time.
Customer Reviews and Ratings
One of the best ways to build trust with potential new customers and keep existing ones coming back is by showcasing customer reviews and ratings on your website. Positive customer feedback helps build trust with prospective new customers while also allowing existing ones to see how others have enjoyed certain dishes or experiences at your restaurant before committing themselves to ordering something similar or returning again in the future.
That being said, negative reviews should also be taken into account as this can provide valuable insight into areas where you may need improvement as well as opportunities for growth within your business model down the road.
Recipe Database & Blog
Finally, having a recipe database & blog on your site can be incredibly beneficial if you're looking to build brand recognition among potential new customers who might not know about you yet but who already trust certain chefs whose recipes you feature on your site or blog entries exploring various topics related to cooking & cuisine that appeal specifically to them & their culinary interests.
Work with us Today
We believe in making your food business website work better. That means we're not just going to design a beautiful website for you—we'll also teach you how to use it so that you can take full advantage of all its features. We'll even help with a marketing strategy so that your website becomes an effective tool for reaching customers.
Don't let technology be a hassle for you and your business! If you're ready to make an investment in the future of your business—We can help you automate and streamline all of your systems so that you can focus on what's important: making great products and serving happy customers.