Black Friday Web Design Ideas & Strategies for Sales Success
Dec 8, 2022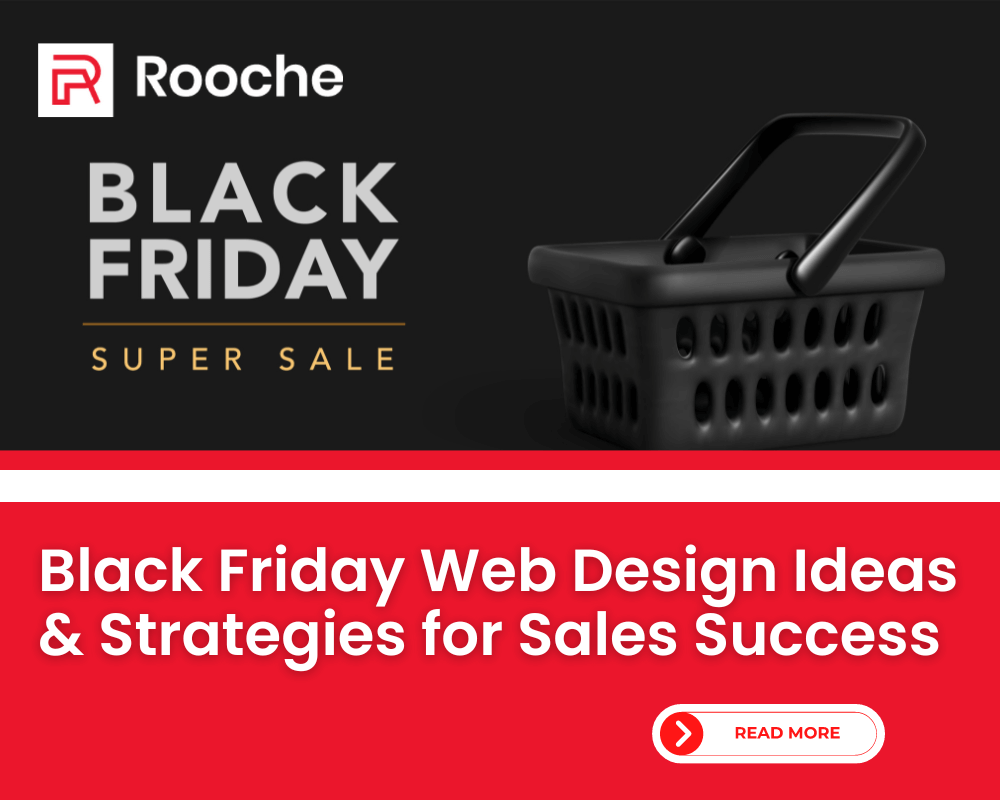 It's that time of year again! No, not pumpkin spice lattes and Halloween—we're talking about BLACK FRIDAY. The biggest shopping day of the year is just around the corner, and if you're a business owner, that means it's time to start thinking about how you can take advantage of all the holiday shoppers looking for deals online.
One of the best ways to do this is by making sure your black friday web design is ready for the influx of traffic. That means beefing up your server capacity, making sure your checkout process is smooth and streamlined, and—you guessed it—Making sure your website looks its best!
After all, first impressions matter, and you want to make sure your website makes a good one. Luckily, we've got you covered with some great Black Friday web design ideas to help get you started. So read on, and get ready to make this holiday season your best one yet!
Give Your Website a festive Makeover
One of the simplest and most effective ways to get people in the mood to shop on your website is to give it a festive makeover. Add some holiday-themed graphics or banners, change your color scheme, and generally just make it look more like it's meant for Christmas shopping. This will help get people in the right mindset when they visit your site on Black Friday.
Use Holiday Themed Graphics
Nothing says "holiday shopping" quite like a festive graphic or two (or ten). Adding some holiday cheer to your website is a great way to get people in the shopping mood. And if you really want to go all out, you can even animate your graphics! Just make sure they don't slow down your page too much. No one likes a slow website, especially when they're trying to score some great deals.
Add Some Holiday Cheer
Add some holiday cheer to your website! If you need some extra little, you may hire a web design agency to help you plan a better design. A little bit goes a long way, so even adding some simple holiday decorations can make a big difference. After all, 'tis the season!
2. Offer Exclusive Deals and Discounts
This one is a no-brainer. Everyone loves a good deal, so why not offer some exclusive discounts and coupons on your website? This is a great way to encourage people to shop with you instead of your competition.
Ensure that you clearly advertise the deals and discounts on your website so people know what they're getting. Nothing's worse than finding out after the fact that you could have saved 10% if you had only known about that secret code…
Run a Black Friday Sale
This one is pretty self-explanatory. Running a sale is a great way to entice people to shop on your site, and if you make it a Black Friday-specific sale, even better! Just be sure to promote it prominently on your homepage so people will know about it.
Offer Free Shipping
Free shipping is always a popular perk during the holidays, so why not offer it on Black Friday? You can either make it available for all orders or require a minimum purchase amount. Either way, this is sure to attract some buyers.
Create Special Black Friday Bundles
Bundling products together is a great way to increase the average order value, and it's something that customers are often looking for during the holidays. So why not create some special Black Friday bundles that are only available for a limited time? This will definitely entice people to buy from you rather than from a competitor.
Have a Plan for Cyber Monday Too!
Cyber Monday is another big shopping day—maybe even bigger than Black Friday nowadays. So don't forget to have a plan for that too! Many of the same principles apply: make sure your website can handle the traffic, offer exclusive deals, streamline your checkout process, etcetera etcetera. You don't want to get caught flat-footed on Cyber Monday because then you really will miss out on some big sales.
Run a Countdown Clock
A countdown clock is a great way to create a sense of urgency and encourage people to buy before time runs out. You can use it to countdown to the start of your sale or the end of your free shipping offer. Either way, it's sure to get people's attention and encourage them to take action.
Make Your Checkout Process Seamless
The last thing you want during the holidays is for people to get frustrated with your checkout process and abandon their carts. Make things as easy as possible for your customers by streamlining your checkout process and offering multiple payment options. And if you really want to go above and beyond, offer free shipping! We all know how important free shipping is during the holidays.
Use Live Chat Support
Finally, one of the best ways to ensure a positive customer experience during the holidays (or any time of year) is by offering live chat support on your website. That way if anyone has any questions or problems while they're shopping, they can immediately get in touch with someone who can help them out.
No one likes feeling abandoned when they're trying tough questions, so this is a great way to show that you care about your customers' experiences. Plus, it's just good customer service in general!
Conclusion
The holiday shopping season is upon us once again! Are you ready? If not, don't worry—we've got you covered with some great tips on how to get your website ready for Black Friday (and Cyber Monday). Just follow our advice and you'll be sure to have a successful holiday season.
Always be updated
Join our newsletter and be the first to receive future promo and sale updates from Rooche!